There is a considerable body of evidence demonstrating the inherent value of the arts in primary education.
Cultural awareness, in all areas – music, visual arts, drama, and dance – has been shown to improve test scores, increase graduation rates, and reduce disciplinary problems. Children spend several hours per day in school, sometimes toiling away at exhausting work, so it makes sense that breaking up the drudgery with fun, creative, and inspiring endeavours would enhance their abilities and behaviours.
Have you ever wondered why the same concept isn't generally applied to adults, who also often spend hours per day in the same place, working hard at sometimes tedious tasks?
Pablo Picasso said "Every child is an artist. The problem is how to remain an artist once he grows up."
Indeed. And while arts in schools has been a hot topic for quite some years now, art in the workplace is just starting to receive more attention.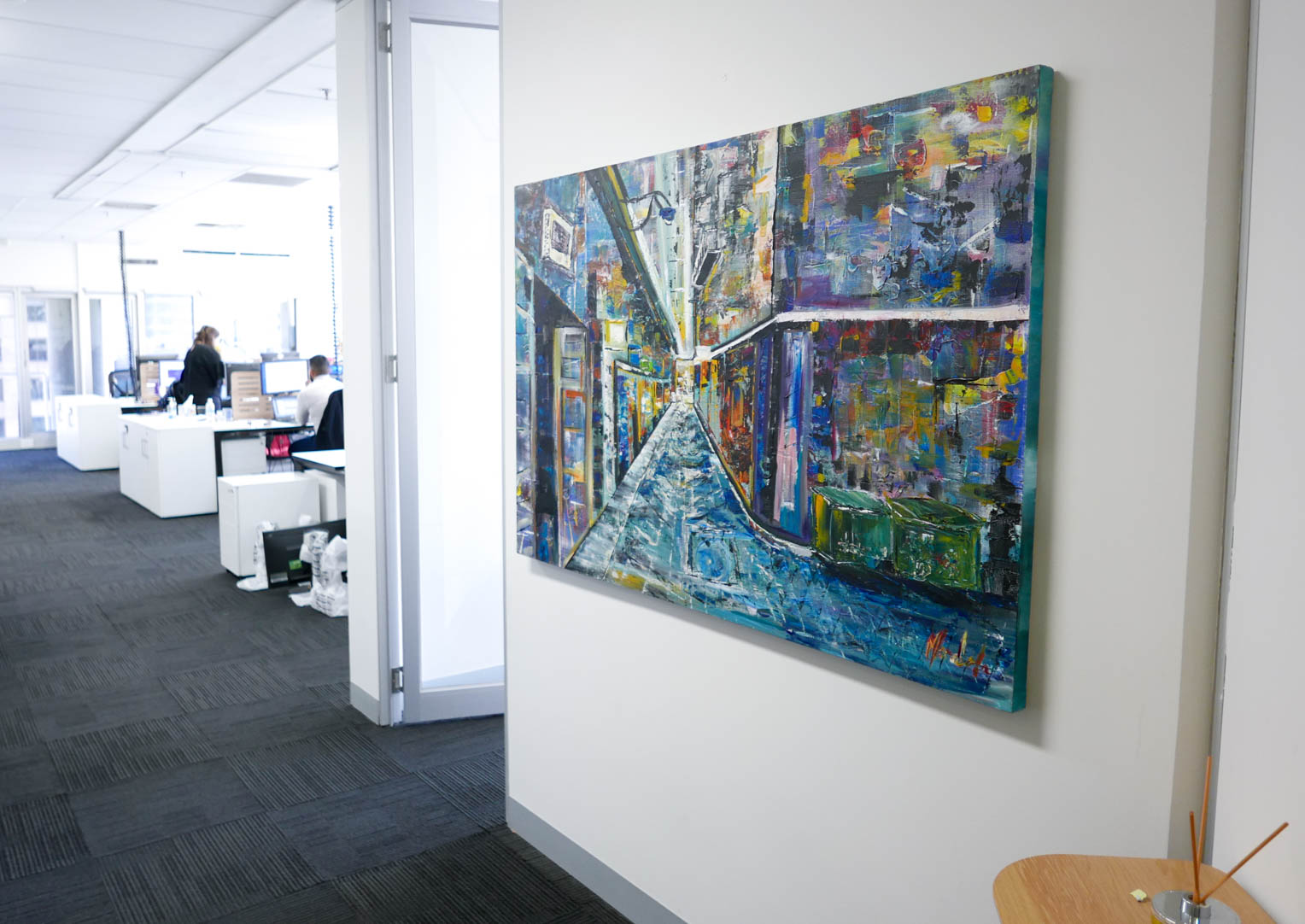 Art at work is not a new concept
Art has been used in a corporate setting as far back as the 1400s, when Banca Monte dei Paschi di Siena, the world's oldest bank still in operation today, commissioned pieces for display in its offices. The tradition of corporate collections continues today with companies like Wells Fargo, which boasts a 6500-piece collection (and tends to stick to displaying "safe" pieces that won't offend), financial services firm UBS in London, owners of 32,000 pieces (and a bit more avante guard with their choices), and Deutsche Bank which has an astounding 60,000 works.
Supporting productivity
It's a bit of a challenge to really nail down hard evidence on the impact of art in the workplace. But that fact hasn't stopped researchers and interested organizations from trying – and the results are pretty convincing.
The IAPAA (International Association for Professional Art Advisors) and the BCA (Business Committee for the Arts) – in early 2000 joined forces in a survey of over 800 employees across 32 randomly chosen companies. The businesses encompassed a range of industries, but all were owners of corporate art collections.
The results were pretty eye-opening. The following reflects the number of respondents who agreed with the various effects of workplace art:
78% - reduces stress
64% - increases productivity and creativity
67% - enhances morale
77% - broadens employee appreciation of diversity, encourages discussion and expression of opinions
94% - enhances work environment
84% - shows that the company cares about improving quality of life both at work and beyond
65% - helps build customer relations
On top of those issues, 82% of respondents agreed that art is an important aspect of the work environment.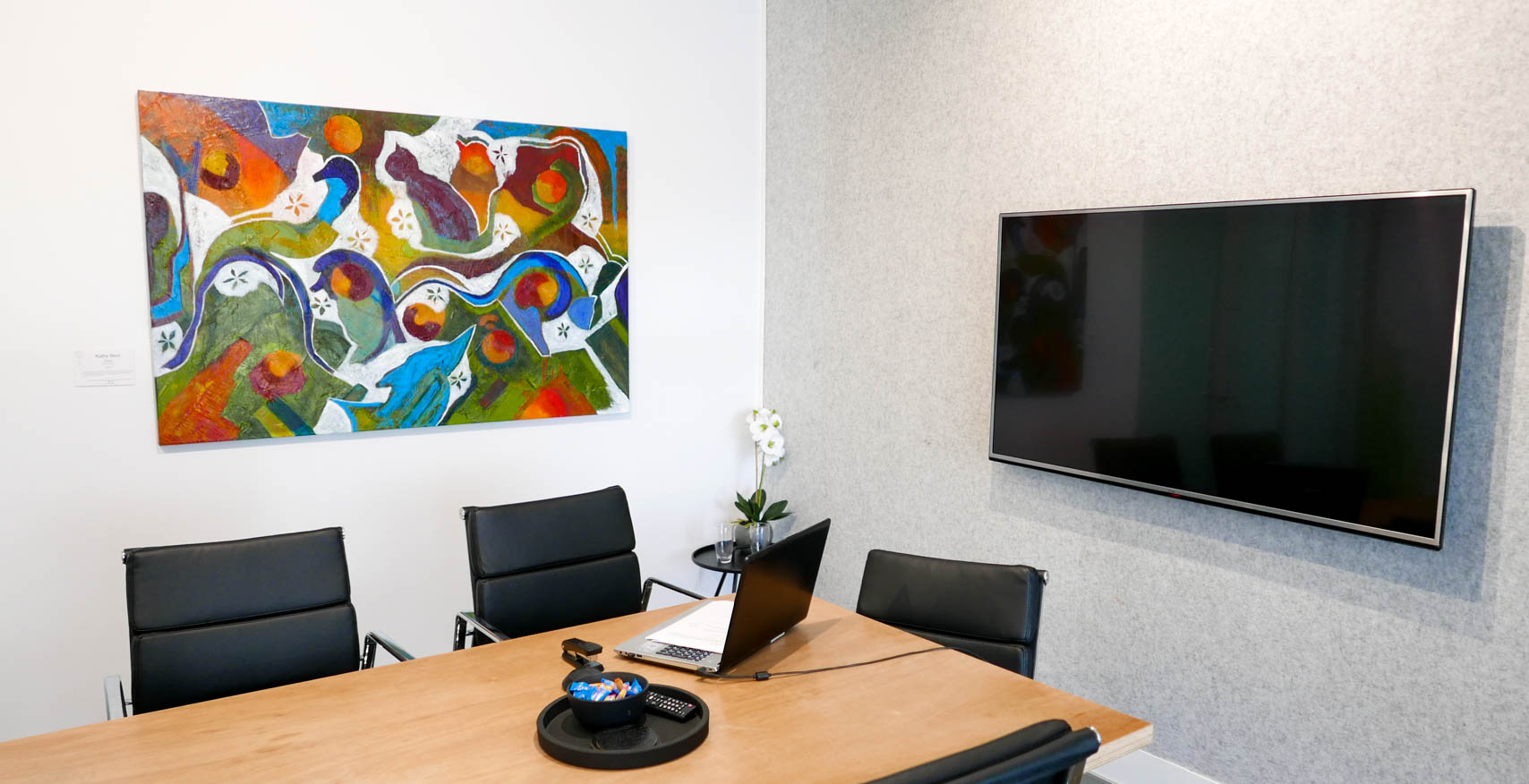 Those in the enriched offices worked 15% faster.
Workplace environment impacts employees
Identity Realization is an organisation headed by Dr. Craig Knight of the University of Exeter, who have been looking at the effects of the workspace on humans for over a decade. During this time, Mr Knight found out some interesting things about workers' reactions to different environmental arrangements at work. In 2010 Dr. Knight conducted a series of experiments that placed employees in a variety of situations:
Lean office – this space was devoid of anything interesting to look at and contained only the essentials for performing the job.
Enriched office – this area contained artwork like vibrant Georgia O'Keefe prints, and even plants and other visually pleasing objects.
Empowered office – these participants received the same items as the enriched office but were able to arrange everything to their own liking.
Disempowered office – workers could arrange their own decorations but when they were done, the researchers put everything back into the enriched configuration.
What do you think happened to productivity as a result of these experiments? Those in the enriched offices worked 15% faster than the lean people did. Not so surprising, right? Mental stimulation is good for productivity. But then those in the empowered offices, who were permitted to arrange their own items, experienced a 30% increase in efficiency over the lean office. And the poor disempowered suckers? They worked at the same pace as the lean office people. One disempowered participant even expressed a desire to hit the experimenter who had undone their arrangement!
TRENDING: Wellbeing and employee retention research
The British Council for Offices (BCO) and International Art Consultants (IAC) collaborated in 2012 for a report on best practices and current trends on art in the workplace. The results of this survey reinforced the findings of the BCA and IAPAA ten years prior: that art is good for corporate wellbeing and is considered by the vast majority of workers to be an important element of their work life.
93% of participants agreed art makes a business more welcoming, not just for workers but for clients as well.
Over 60% indicated that artwork stimulates creativity in staff.
90% said they display art on their premises
86% indicated a belief that art is more relevant in today's workplace than ever.
Interestingly, this survey also indicated that artwork may be a good technique for employee retention. There's also a trend in highly sought-after jobs – as in, many of the companies that employees are eager to get in with have one thing in common: their company cultures all include a healthy dose of artistic engagement.
Companies like Facebook (which has an artist-in-residence program), and IDEO (which – among other eccentric activities – provides its workers with walls to draw on) are quickly becoming the new standard in desirable work environments. In other words, art isn't just good for business – it may very well be the new bar by which employees decide to accept an offer, or even to stay at their existing company. And that's ok, because as the evidence shows, integrating art into your business in some way, whether in the form of a collection of traditional pieces or even employee - created works, makes everyone feel more valued, comfortable and inspired. And that's never a bad thing.
Put simply, in the words of Dr. Knight: "If you enrich a space people feel much happier and work better; a very good way of doing this is by using art."
We couldn't have said it better.
If you're feeling the weight of a disconnected office, looking for new ways to inspire employees or just wanting to test a theory, ask yourself this question; could art benefit your business?
Are your employees performing to their full potential? And if not, could your blank walls do with a creative gift?