I am an avid amateur landscape photographer. I love our beautiful natural landscapes and capturing precious moments in time. I love being out and about in the great outdoors, regardless of whether it is hot, cold or in between! When out on a shoot, I absolutely immerse myself in the environment and the moment, visualising, waiting, observing, climbing, wading, whatever it takes.
Giclée fine art print
$690 unframed, $940 framed
Tranquil Waters. There is nothing quite as tranquil as running water flowing through a stream within our beautiful Australian landscape. The whispy movement of the water captured in this image brings peace and calmness to the viewer.

Kentlyn Basin NSW. Kentlyn Basin located within the Upper Georges River is a hidden gem! The stunning colours of the sandstone, the endemic vegetation, and the calming flow of the waterfall captures the essence of the Australian bush at our doorstep.

We Stand Together. Three pillars stand together - representing resilience, strength, and support in this most idyllic location.

Illustrator of foxes and colourful characters. I love combining colour pencil and digital painting together to create storybook worlds and bring vivid characters to life. Influences include comics, animation, and nature. Based in South-West Sydney you can normally find me selling my artwork locally at comic conventions and art and craft markets.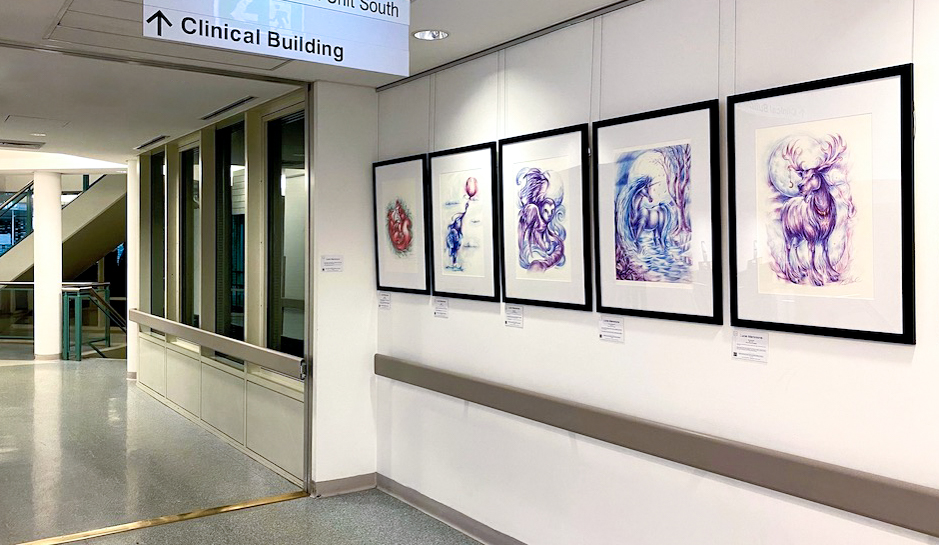 Colour Pencil and Digital Artwork
$150 unframed open edition, $350 framed
Fox And Cub. Curled up safe in a fox's den. Looking down into the forest den, we get to witness a tender moment shared between a mama fox and her cub. It emanates warmth and love, showing the close bond between them. Foxes are such wild, curious and enigmatic creatures. My foxes have taken on a life of their own in my works, and have an otherworldly quality. Their white paws (ghost paws) show they are not quite like other woodland foxes, and I'm enjoying finding their story as I keep drawing them.

Lift Off. A joyful, uplifting piece of this elephant holding his balloon, and taking flight. I created this piece for an illustration challenge group. The prompt was 'Lift Off', and I wanted to capture the transformative feeling of something so heavy, becoming light and able to fly. This was one of my earlier pieces from the group, and he's brought a smile to so many people for his spirit, not just elephant lovers.

Night Song. Night Song is a great Barn Owl. Wise, swift and silent, he touches down to survey the landscape at night. Owls are my favourite bird, a bird with personality and presence. I was particularly drawn to depictions of wise, eccentric owls in animated films when I was a child. Always been Seeing them in action always feels like a privilege. This guy started a sketch study for another piece, but I returned to it and turned him into his own work of art.

Unicorn, Nightstroll. Unicorns are not just a fantastical embodiment of beauty and grace, they also have the ability to purify water. Her watery mane replenishes and purifies the streams as she takes an evening stroll. I've been asked to draw unicorns quite a few times. Mythical creatures are always a pleasure to draw and research, and I enjoy bringing something a little different to them.

The Reindeer. The Reindeer stands tall and proud on a clear, serene night, in the wilds of a North Pole forest. Reindeers don't always have to just be for Christmas, and while I created this piece around Christmas time a few years back, I also wanted to make you feel like you were out in nature, coming across one of these majestic creatures.

Watch this space for more to come! Artists, if you're keen to submit your works for the next collection, you can do so here.
Please feel free to book in your free on-site consultation to talk about how we can bring local art into your space. Beyond our art rental, we also facilitate the sale and commission of artworks, creative team-building events, and pop-up art exhibitions. Contact us today on [email protected] or on 0433 403 044.