Banksia RedFlowering Gum Grevillea

Watercolour on paper
My artwork reflects the diverse and beautiful examples of Australia's native flora, particularly those native that I have found growing in the Holsworthy area. Although this group of paintings is reflective of my interest in creating Botanical artworks, I also am keenly interested in portraiture, both animal and human. I mainly use watercolours as my preferred medium, however, I also use pen and ink and acrylics when the subject warrants it.

Swiss Born, Andre Braun has been studying Architecture in Switzerland and moved to Sydney in 1995. Andre Braun has been influenced in his work by the various project he has been working on in Australia and overseas. His work as a solo artist involved sculpture, architecture, photography, street art.
In parallel to his work in the architectural field, Andre Braun has been working over 8 years as a solo artist, involving sculpture, photography, graphics and visualisation.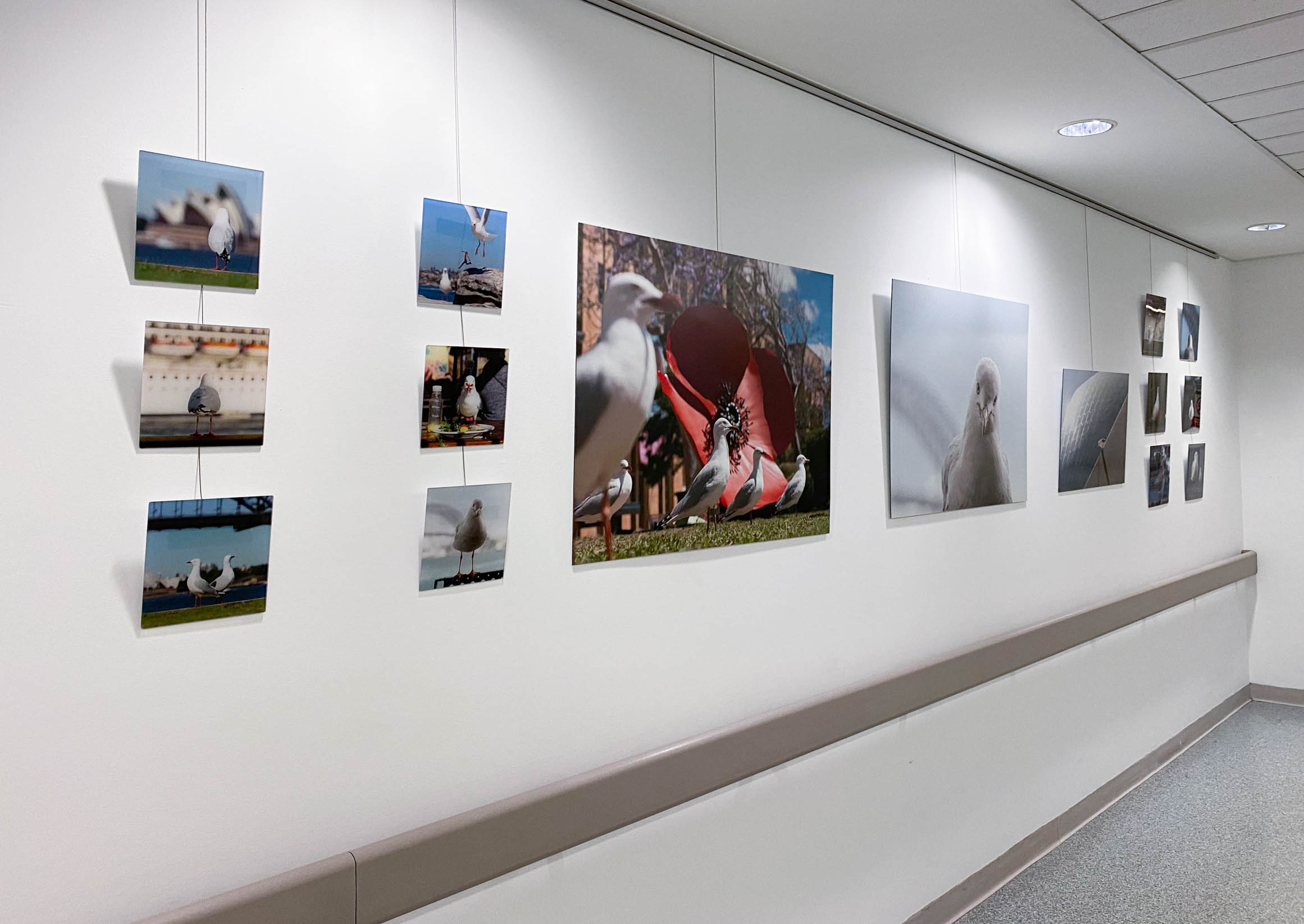 Seagulls In The City Series
Seagulls in the city - put a smile on our face

Following the birds on my daily journey to work, this exhibition explores the way seagulls view the world and survive, eat and play in a built environment. A display of large scale photography and intriguing postures captured over several years, creating a dialogue of two worlds in the middle of the city.

The selected photographs are looking at the beauty of these unique creatures and the similar expression between us and them. A lot of articles have recently highlighted the aggressive nature of these birds, the main culprit being humans feeding them. Is it really the gulls' fault to be located near populated areas with no other place to go than near us? The complexity comes as they are protected in Sydney, not always welcome, but not deterred by us.

After all, the Seagulls are the first resident of Sydney! A refreshing sight to look at!
A Sydney based artist, I grew up in inner-city Glebe where my mum encouraged creativity in our home and painting, pottery or paper-mâché often took the place of homework after school. I knew I wanted to be an artist back then, but it took a few different careers in design (Interior & Graphic Design), two kids, and numerous life events to realise It's no longer just a want to do, but a strong, insatiable and necessary thing I need to to do to feel fulfilled and alive.

A self-proclaimed National Art School dropout, I'm inspired by an ever-growing desire to understand the world, and find the creation of art a way of unpacking and processing some of the weird, wonderful & awful things that keep me up at night, make my heart flutter with delight, or see me curled up under the covers crying myself to sleep. My art celebrates and contemplates love, beauty, pain, the profound, and all the contradictions that follow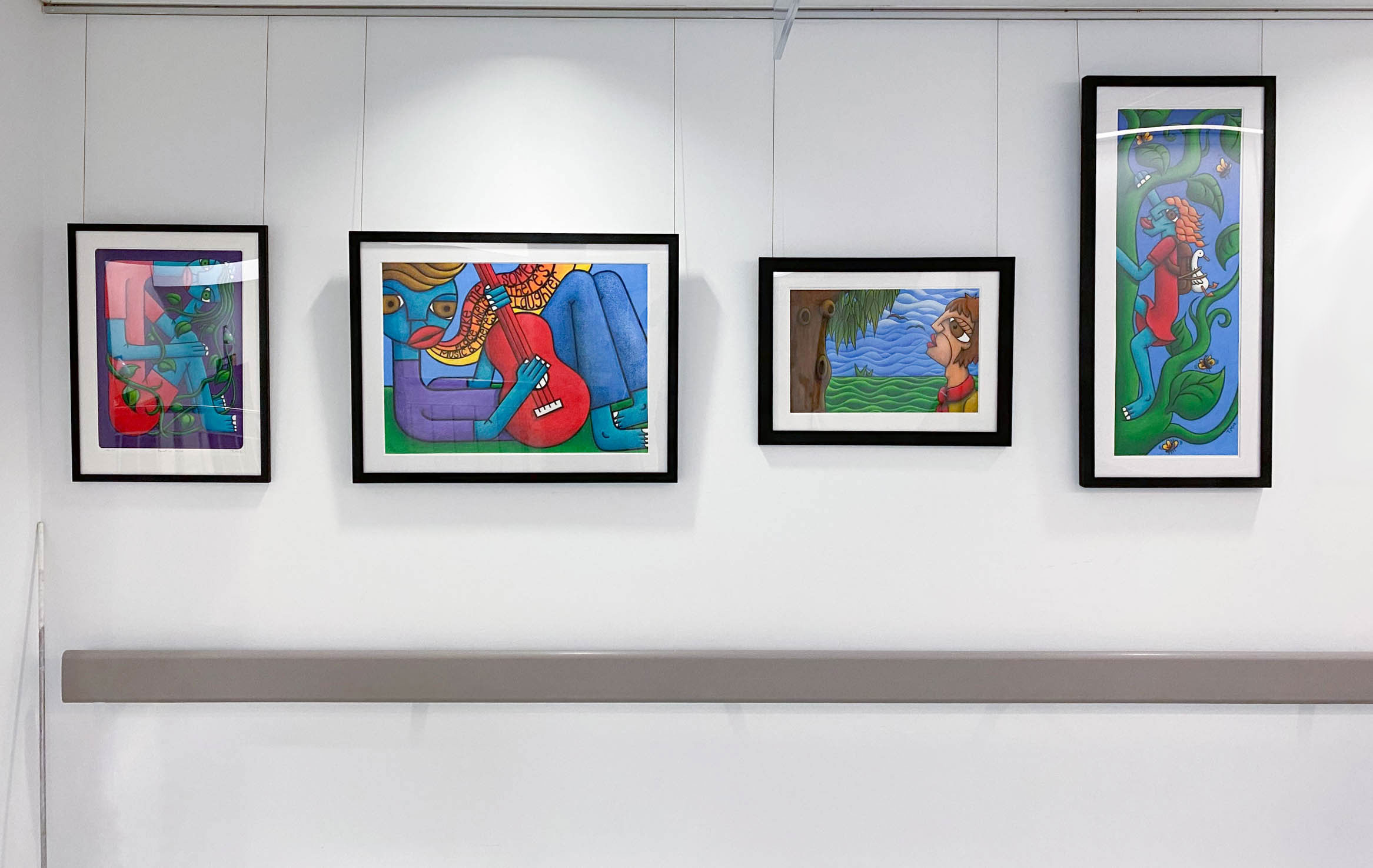 Beautiful Mind. Beautiful Mind sees the mind as a growing, beautiful thing, like a garden that envelopes one's entire body.
Music and Laughter. Peter had a perfect voice and played a red guitar. And when he sang a song one day the music travelled far. Around the world three times or more for everyone to hear. As Peters song went passed your house you'd hear the people Cheer. Peter played the perfect piece and practised every day. When Peter played it perfectly you'd hear the people say. "I'm pleased he practised patiently so he was well prepared". Pete's perfect pitch is plane to hear so everyone declared - by Sean Costell
Conversation with a Tree. Conversation with a Tree was created in response to our recent lockdown and sees a human in conversation with a tree looking for a deeper connection with nature.
The Climb. Halfway down Jack had second thoughts. I mean it was tempting and all that but really his mother hadn't raised him to be a thief. What if he put the goose back and just took a couple of gold coins, I mean he wouldn't even notice a couple of coins right? There were so many and even a few coins would change their lives. And if they ran out, well he could always nip back up. Jack sighed heavily and started to climb back up, he could pop the goose back before anyone noticed. "HONK" There was a bellow from above. "HONK" A shower of leaves fell on Jack and the beanstalk started shaking violently. "Traitor," muttered Jack as he slithered down the beanstalk barely catching himself on the way to the ground. - Story by Rebecca Tull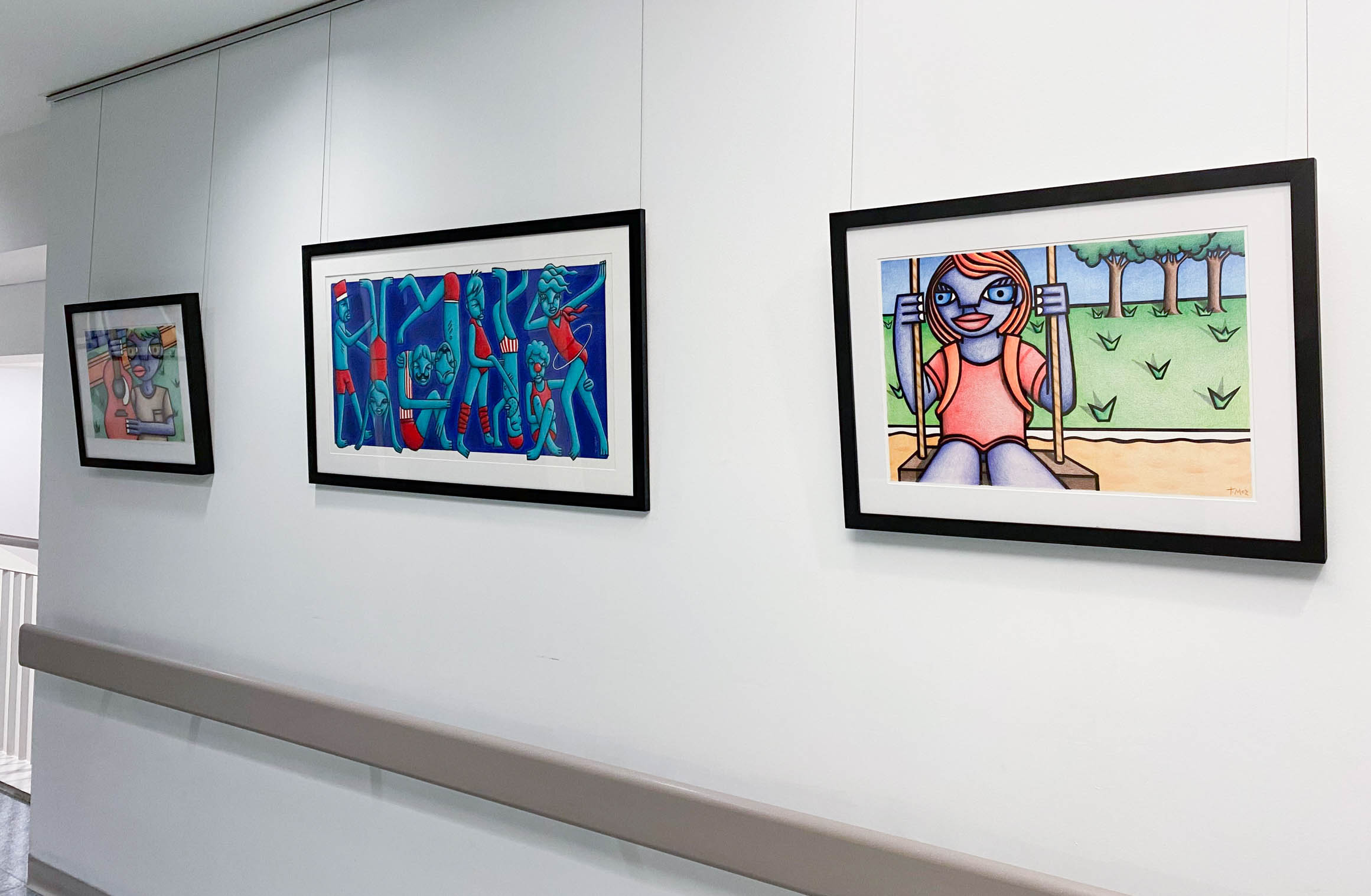 The Guitar Player. Elodie held the guitar tentatively, the sun lighting up the wood giving the timber a golden honey coating that hadn't been as vibrant in the shop. The man in the shop had asked if Elodie wanted to try it out but she'd refused and asked him to play her something. His fingers picked and plucked the strings easily, coaxing a sad melody as he hummed to himself while he played. Elodie smiled and told him he sounded great. 'I bet you do too' he'd said and held the guitar out again. She refused and said she'd take it, so with a sigh of disappointment at not hearing her play he had zipped it into a cheap case and handed it to her. 'Come back and play for me', he'd said. Elodie smiled. She might, one day when she learned how. - Story by Rebecca Tully
The Acrobats. … felt incredibly alone as though he were looking at life through frosted glass. Not anymore. He'd found his people. He tensed and bounced on the balls of his feet before erupting into a run and leaping skywards into the ready arms of an acrobat. Like him. - Story by Rebecca Tully
The Swing. There was a girl called Skye. Who swung her swing too high. She looped the loop. Threw up her soup. And quickly learned to fly-T.Morris

I am an avid amateur landscape photographer. I love our beautiful natural landscapes and capturing precious moments in time. I love being out and about in the great outdoors, regardless of whether it is hot, cold or in between! When out on a shoot, I absolutely immerse myself in the environment and the moment, visualising, waiting, observing, climbing, wading, whatever it takes.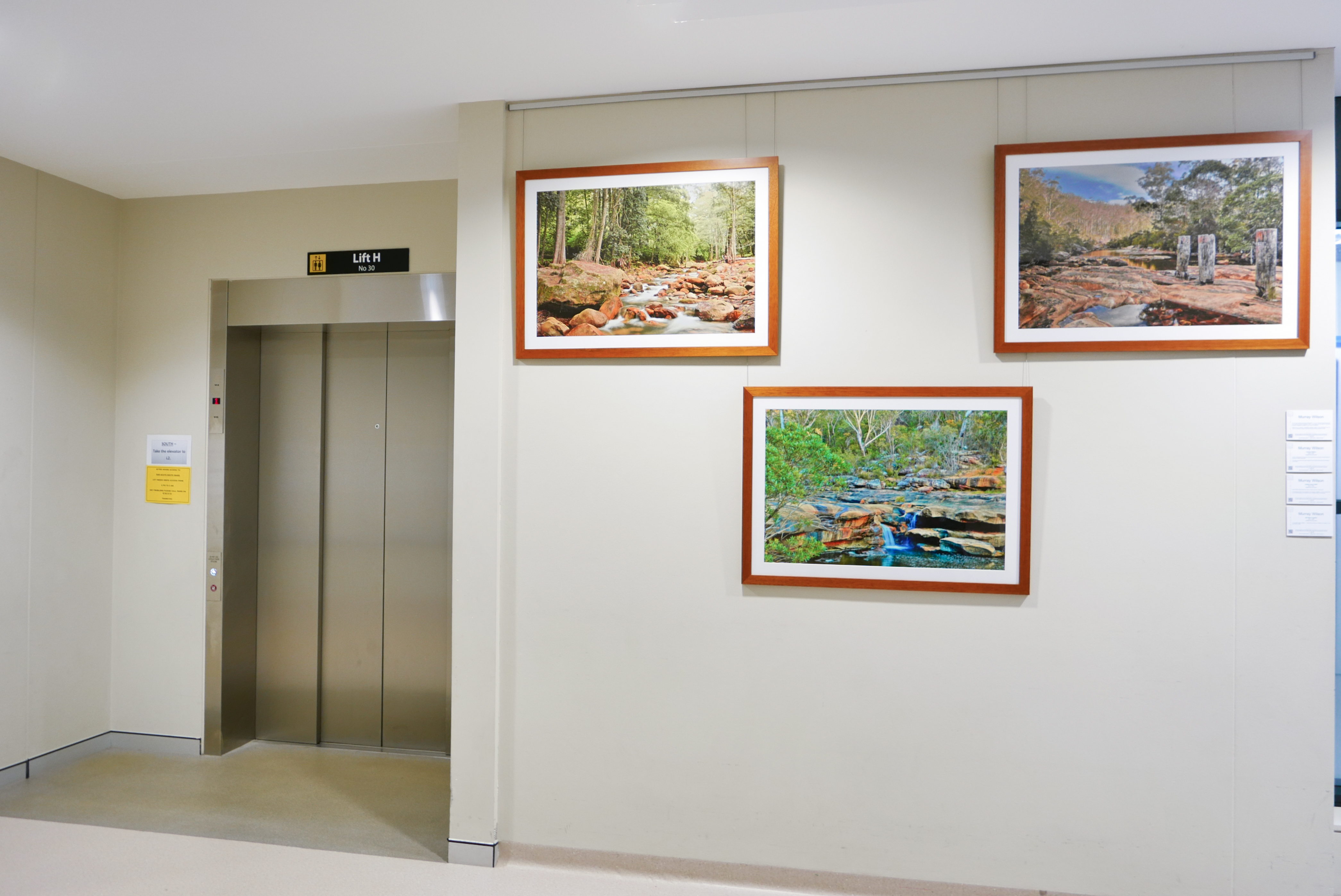 Giclée fine art print
$690 unframed, $940 framed
Tranquil Waters. There is nothing quite as tranquil as running water flowing through a stream within our beautiful Australian landscape. The whispy movement of the water captured in this image brings peace and calmness to the viewer.

Kentlyn Basin NSW. Kentlyn Basin located within the Upper Georges River is a hidden gem! The stunning colours of the sandstone, the endemic vegetation, and the calming flow of the waterfall captures the essence of the Australian bush at our doorstep.

We Stand Together. Three pillars stand together - representing resilience, strength, and support in this most idyllic location.
Watch this space for more to come! Artists, if you're keen to submit your works for the next collection, you can do so here.
Please feel free to book in your free on-site consultation to talk about how we can bring local art into your space. Beyond our art rental, we also facilitate the sale and commission of artworks, creative team-building events, and pop-up art exhibitions. Contact us today on [email protected] or on 0433 403 044.