ColourSpace is working with Liverpool Hospital and Bankstown-Lidcombe Hospital on an exciting program that brings local art to Hospitals in a way that both improves the healing environment, whilst also supporting local artists.
The primary mission of this Program is to create a more comfortable and calming atmosphere within the often-stressful environment of a Hospital to provide a positive diversion for patients, visitors and staff. Critically, this Program is based on existing research from the WHO that demonstrates the impact of art on healing.
Furthermore, this Program is established in line with the South Western Sydney Health and Arts Strategic Plan 2018-23's recommendation on connecting and involving the local community, as well as being a broader part of the Hospitals' redevelopment.
Exhibition Submissions Open for both Liverpool Hospital and Bankstown-Lidcombe Hospital
There are two separate Hospital exhibition programs that artists can apply for. The Liverpool Exhibition Program is now open for its third exhibition, whilst the Bankstown-Lidcombe Exhibition Program is now open for its first exhibition.
Submissions for both Hospital programs will be managed through the same ColourSpace portal (link below). We will assume that your submissions will be for both programs unless otherwise specified.
If you've previously registered for the Liverpool Exhibition Program and have submitted artworks previously, your profile is still active along with your previously submitted artworks. They will all count as part of your submission for both exhibitions. In other words, if you have an existing account, all you need to do is sign in and review whether you're happy for your current artworks to be included for both Liverpool and Bankstown-Lidcombe Hospital exhibitions. If not, please delete them from your profile and re-submit any new artworks.

Timeframes
Submissions open: 12pm, Tuesday 11 May 2021
Submissions close: Midnight, Tuesday 25 May 2021
Artist(s) for Second Exhibition announced: Friday 25 May 2021

Exhibitions installed and artwork on display: Saturday 19 June 2021
In the light of Covid, please be aware that these dates may be subject to change. We will do our best to keep this page up to date, as well as through our social media.
About the Exhibition Program
We are transforming various wards and thoroughfares into galleries filled with local artwork that is changed every 3 months. Each exhibition will be curated around particular themes based on a combination of pre-approved suggestions from the hospital (see below), as well as depending on what works you submit to the Program.
For artists who may not be familiar with ColourSpace, our model is predicated on helping artists share works that you've already created with the world. This Exhibition is not about asking artists to commission and submitting new works for us; it's about giving you an opportunity to share more stories about the artwork that you've already created.

For artists, all of your artworks will be displayed for sale, with ColourSpace applying a 25% commission if any works sell.
For other questions on how ColourSpace works for artists, there is a Frequently Asked Questions on the registration page.

Exhibition Themes
With this exhibition being installed in the first couple of weeks of 2021, in the height of summer, we are thus looking for abstract, representational, and figurative artworks based around the following themes:
Summer | Warmth | Fresh starts | Community | Fullness | Love | Celebration | Generosity | Fun | Healing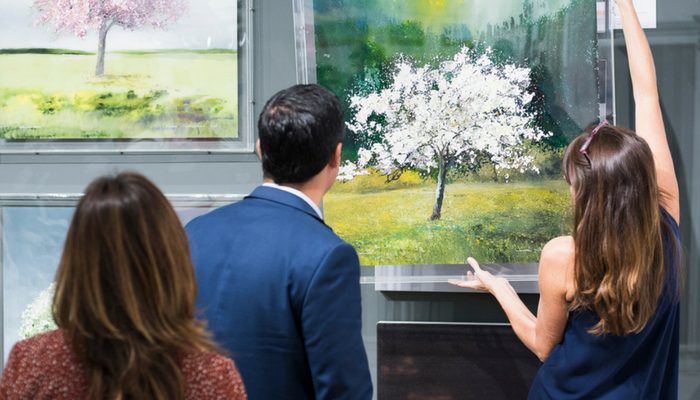 What does the exhibition space look like?
There are several walls on which art will be displayed, all of which will have gallery rails installed, with security hooks applied. Below are some photos of Liverpool Hospital, and you can check out the exhibitions for Spring 2020 and Winter 2020.