A sincere thank you to all of our clients who have stayed with us through and beyond lockdown, to continue to support our vision, to create better environments for people, and to support local artists.
Acute Accounting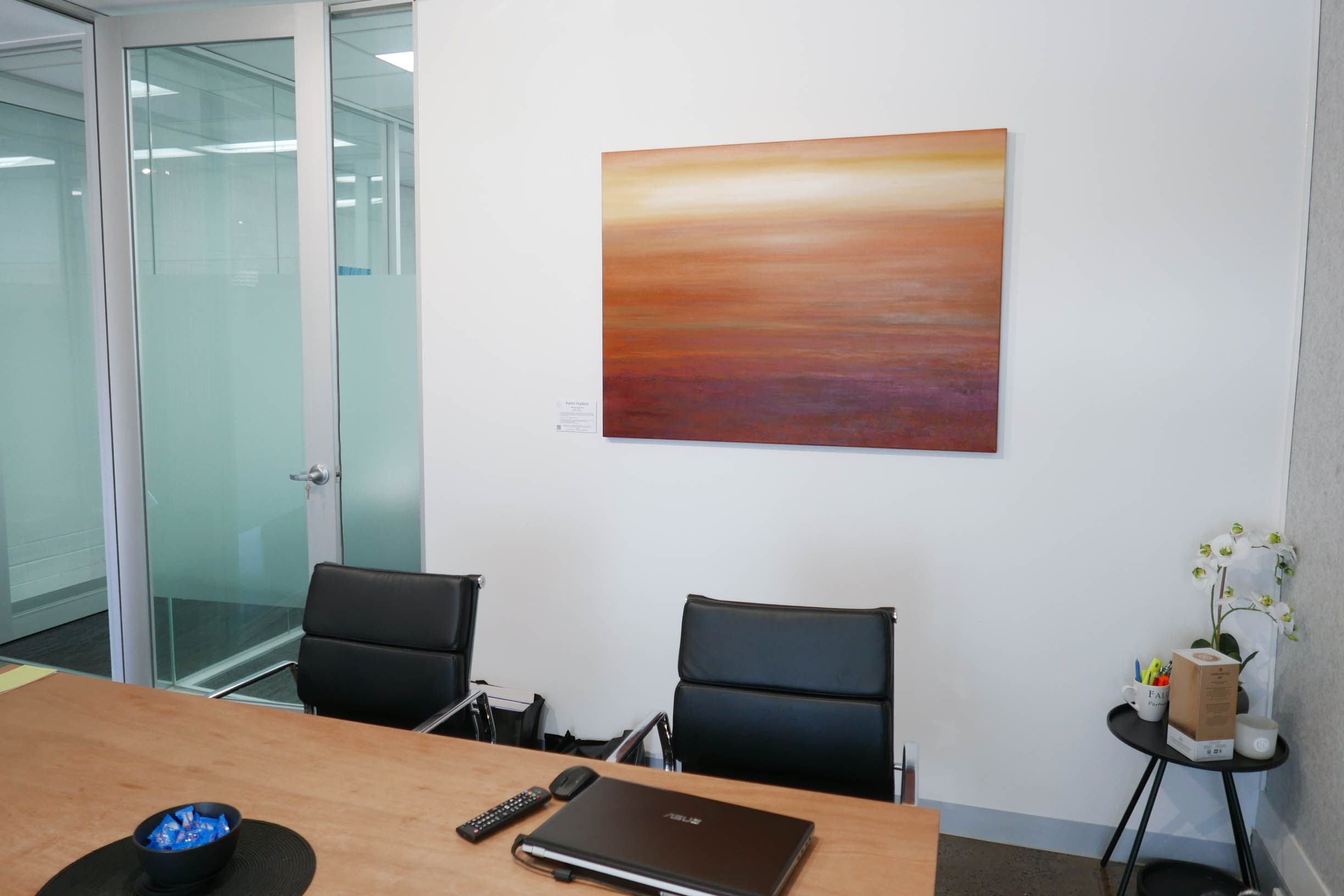 Nullarbor Desert Lines
Acrylic on Canvas
$2500

"This paintings inspired by flying over the Nullarbor which I have done a few times the most significant time for me personally was when moving to Melbourne from Perth. Sometimes when I paint a poem comes to me simultaneously or shortly after about the artwork this one below accompanies this artwork: Nullarbor Desert Lines - (Beginnings and Endings) Like unfathomable messages to the heavens, infinite lines criss-cross., meander, wave, and tangle across the desert. Starting, stopping, twisting, turning, leading nowhere. Punctuating life's beginnings and endings. Silent energy echoing through remote vastness. -KH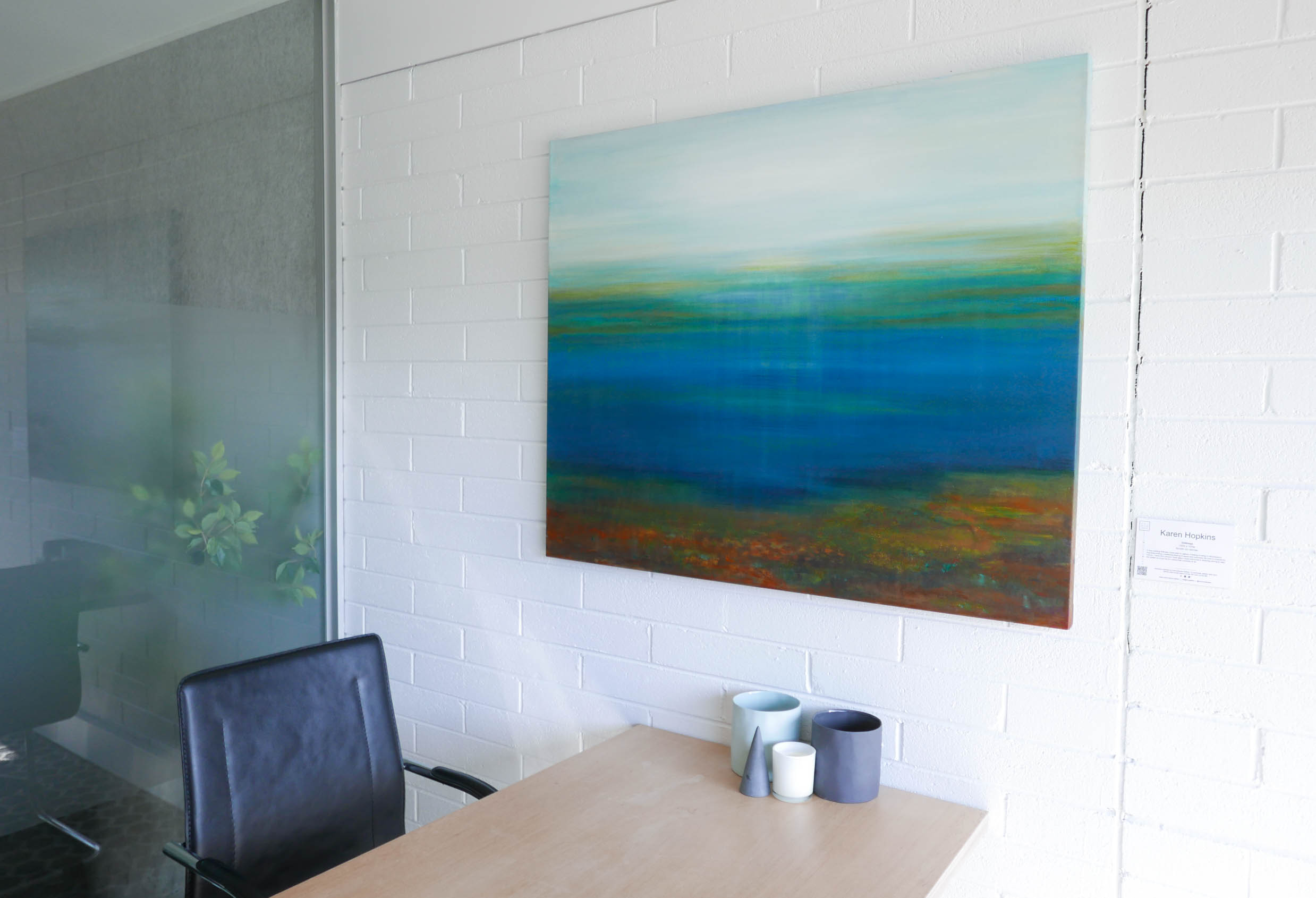 Stillness
Acrylic on canvas
$2600
In this painting Stillness, I have tried to capture a feeling of being in still presence hopefully inviting a meditative feeling of peace and calmness. My work is inspired by nature - I work from photos I have taken visual memories or sketches aiming to take the viewer on a journey to a place that connects us all. The poem accompanying the painting was created simultaneously. Stillness Water, stillness, depth… still yet sinking deeper in a space of transformation somewhere between heaven and earth.
ARA Group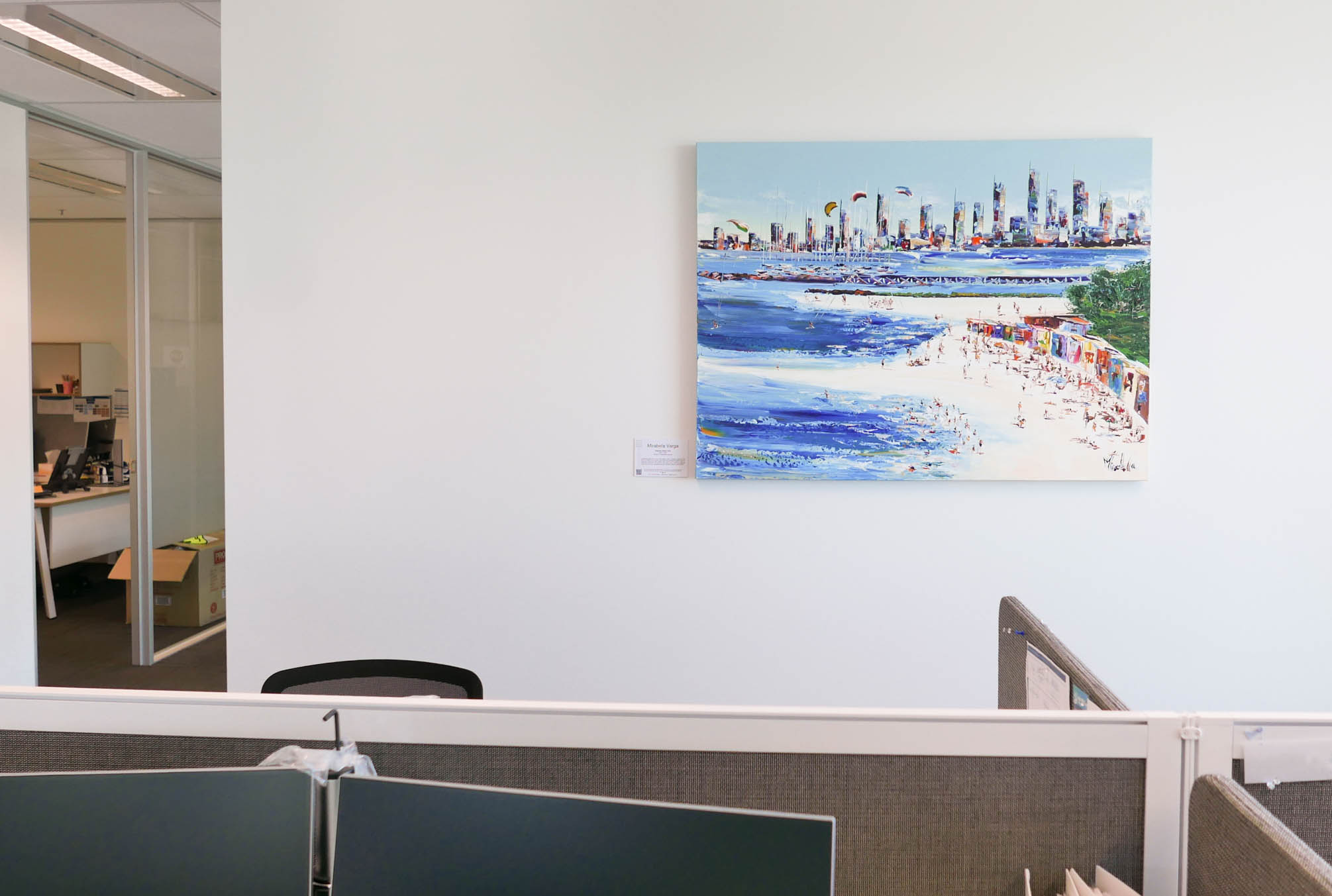 Brighton Beach Vista
Acrylic on stretched canvas
$1495
A captivating aerial view of the iconic bathing boxes in Brighton looking into the distance to Melbourne's city skyline. The perfect day for Melbourne's beach bums and windsurfers enjoying the bay's delights. Soft, textured waves appear to move as people swim and busk in the warmth of this inviting scene. Iconic and delightfully represented through her impressionist depiction of Brighton Beach huts and beyond.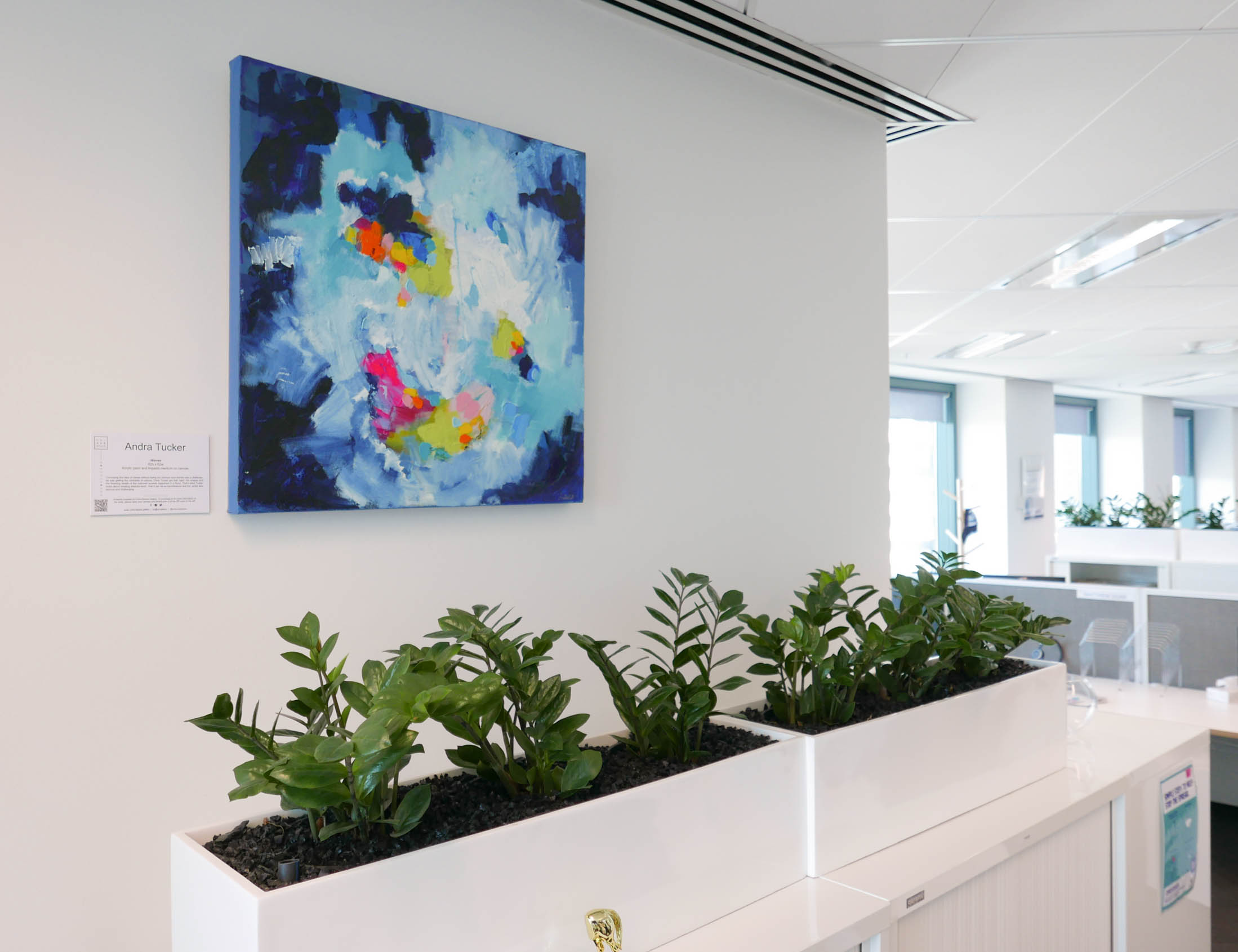 Waves
Acrylic paint and impasto medium on canvas
$400
Conveying the idea of waves without being too obvious and clichéd was a challenge, as was getting the contrasts of colours. Once Tucker got that 'right', the shapes and the finishing details of the coloured accents happened in a flurry. That's what Tucker loves about creating abstract work - that it can be so spontaneous and fun, whilst also serious and challenging.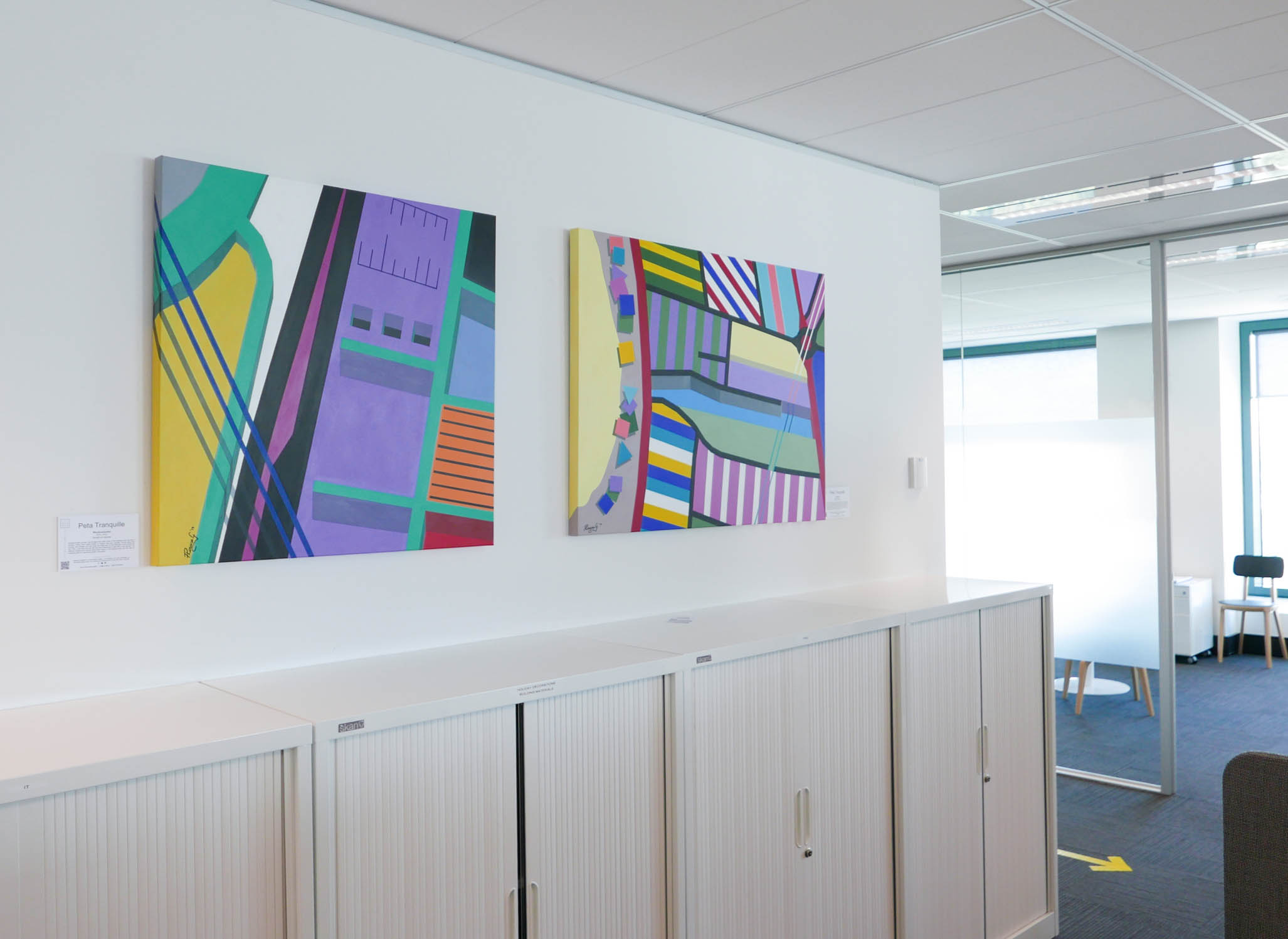 Woolloomooloo
Acrylic on Canvas
$1150
Esplanade
Acrylic on Canvas
$1600
Woolloomooloo. Woolloomooloo tunnels, train bridges and roads close to the buildings near the city of Sydney. When Peta visited family in Sydney she was instantly curious about the tunnels, train bridges and how close the roads were to the buildings in and around the city. This is one area that she felt had lots of elements to play with on the canvas. The different shapes and colours have been linked to the physical area and the play on shadows gives an interesting depth to the piece.
Esplanade. "My interpretation of the Brighton Bathing Boxes on the beach and surrounding area"
Peta moved to Melbourne about 6 years ago and almost every weekend visited tourist spots. One of those destinations was the Brighton Bathing Boxes on the beach. Peta's love of colour was very satisfied when she first set eyes on the colourful beachside. This is her interpretation of the colour she soaked up that day. It is a map featuring the following major roads; Dendy Street, Esplanade and New Street. The map also includes the railway line that passes through the area. The colour has been wrapped around the sides of the canvas and the canvas is ready to hang. The map is oriented North.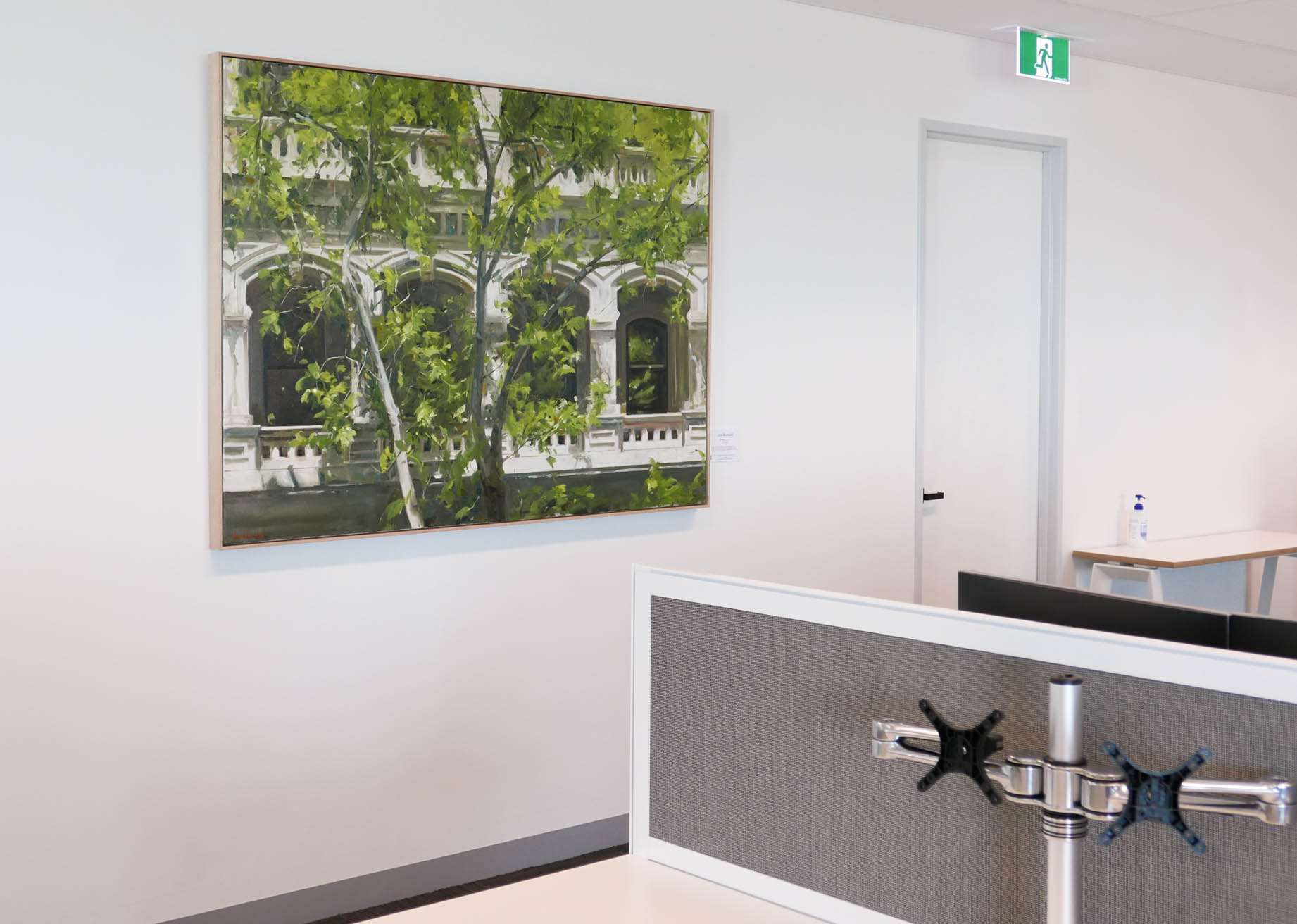 Entanglement Of Nature
Oil on canvas
$7500
Blundell's series of paintings of Melbourne is about the passage of time, and distillation of how he experiences the city visually – his unique take on it if you will. Every artist sees things in their own way. Anyone who has had the privilege of standing in front of one of Monet's haystack paintings will probably never look at light and shadow in the same way again. That's art.
CoworkMe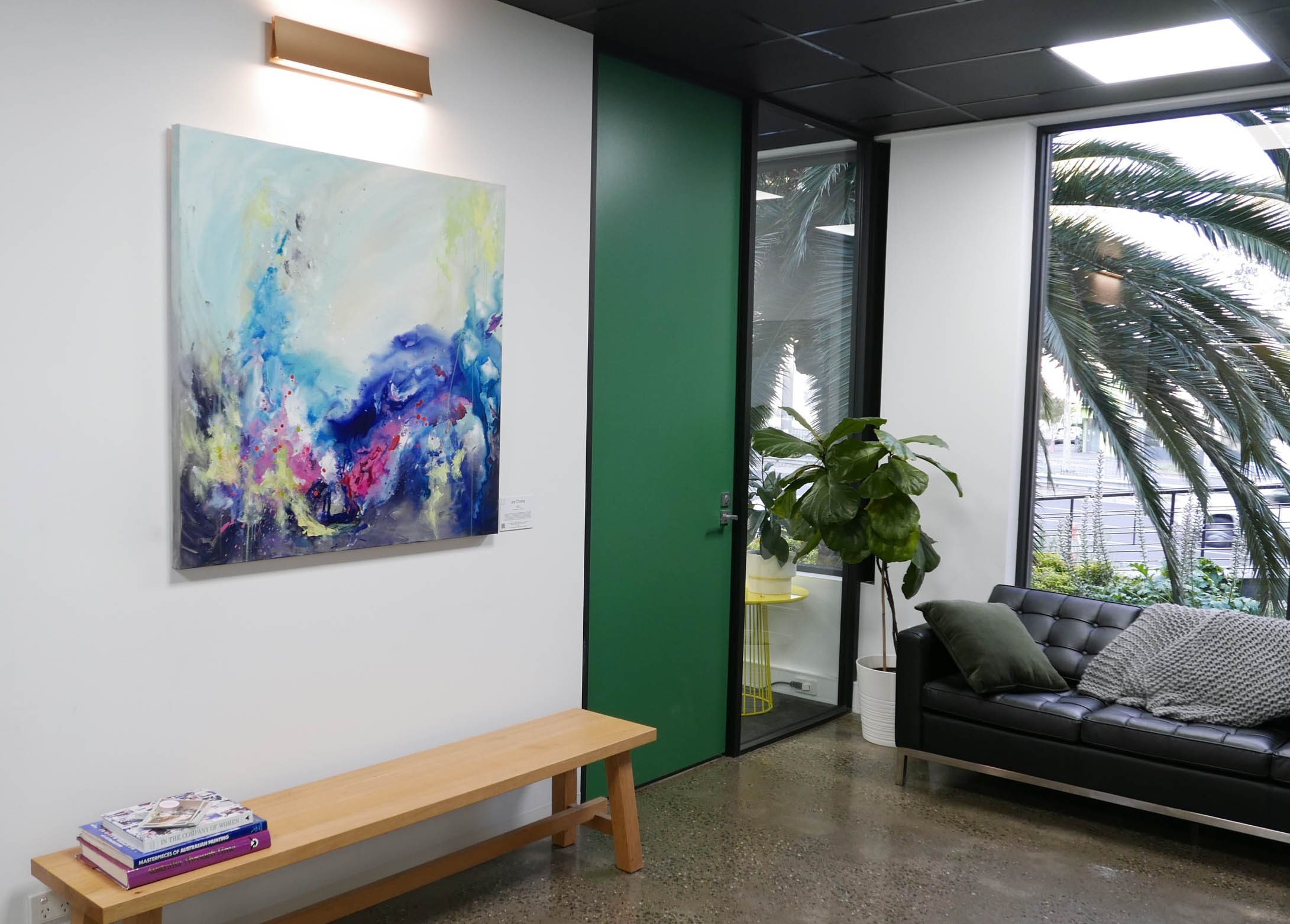 Imagine If
Acrylic and ink on canvas
$1280
This artwork is the joining of dots and the colour bridge between my works on paper and canvas. A moment in time that solidified my confidence in the emotions of my strokes and colours. The title helps sums up my excitement on taking new risks and embracing new opportunities full of hope and happiness. The experimental nature of this piece was so fun to create that the hardest part about the process was knowing when to stop, now that it's complete, I can't imagine it to look any different.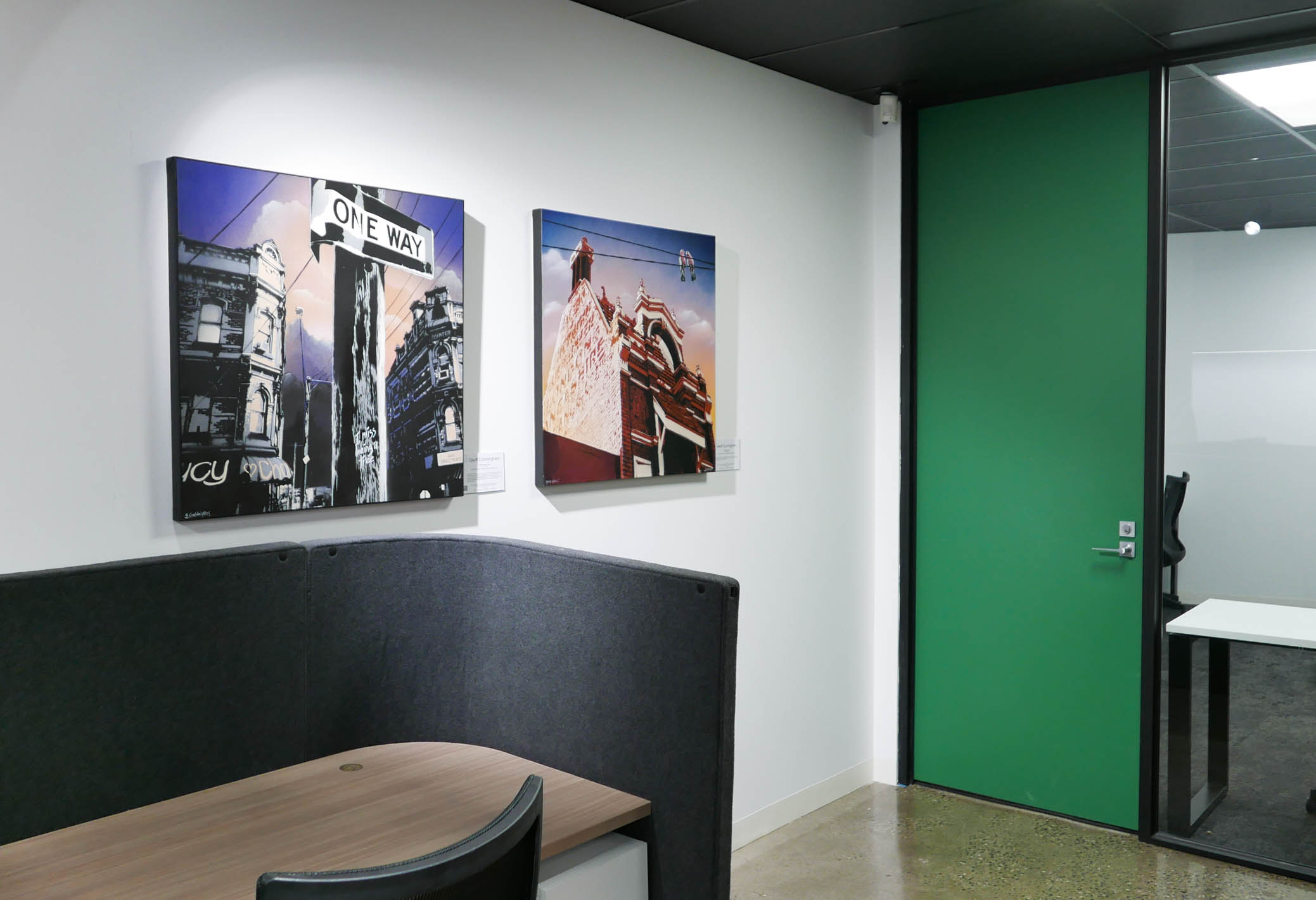 I Miss Being A Tree
Hand-cut stencil, aerosol and acrylic on canvas
$1150
Gossip Galahs 2
Hand-cut stencil, aerosol and acrylic on canvas
$1150
I Miss Being A Tree. Cunningham once saw the statement "I Miss Being A Tree" written on a power pole - it both amused and saddened him at the same time. It's a simple statement, but one that personalizes this once-living organism that is now nothing but a means for conveying our electricity and driving instructions. Hidden behind the initial humour lies his statement about the dangers of short-term monetary gain over long-term environmental pain.
Gossip Galahs 2. Geoff Cunningham loves this building in Albert Park, and only recently noticed the old signwriting on the side and felt compelled to paint it. Of course, he also had to add in his favourite Australian bird, the galah!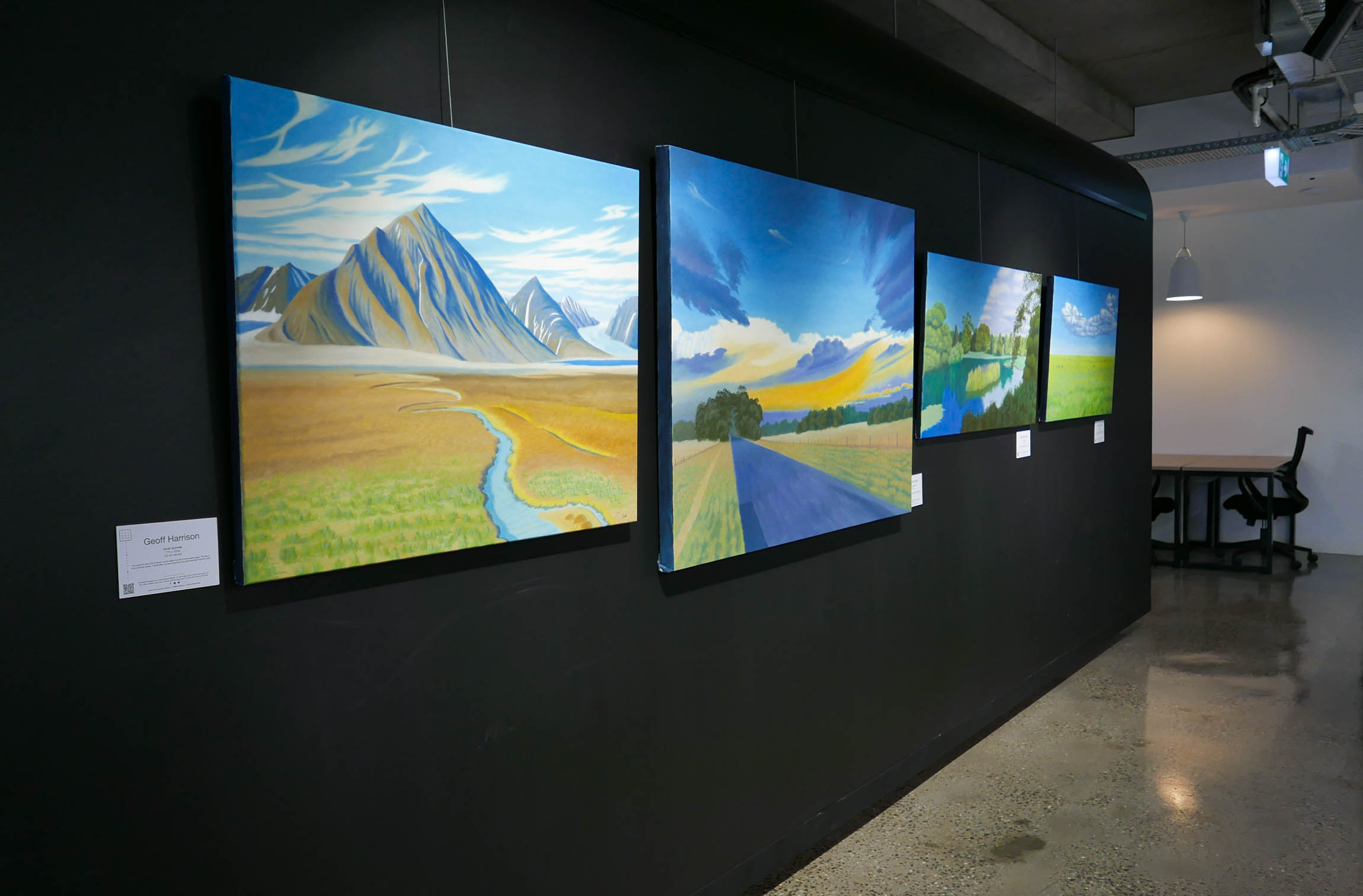 From left to right
'Arctic Summer ', 'Storms Over The Goldfields ', 'Radiant Island', and 'The Steppe'
Stencil & Spray paint on paper
$820
Arctic Summer. The scene is set in the northern arctic region but it's a composite image. The sky is from another scene. I often do this to achieve the particular light that I'm after.
Storms Over The Goldfields. Summer in the goldfields area of Victoria, somewhere north of Maryborough in the mid-2000s. I was living up that way at the time and after the storms cleared I got in my car and took a few photos.
Radiant Island. The ornamental lake in Melbourne's Botanical Gardens. It was a cool, almost drizzly morning and then the clouds peeled away to reveal a searing early March sun.
The Steppe. The sky is loosely based on a photograph I took of the Melbourne city skyline from Kew. The vast grassy plain is largely an invention and I was aiming for a sense of peace and timelessness, a sense that the only thing that matters is the here and now.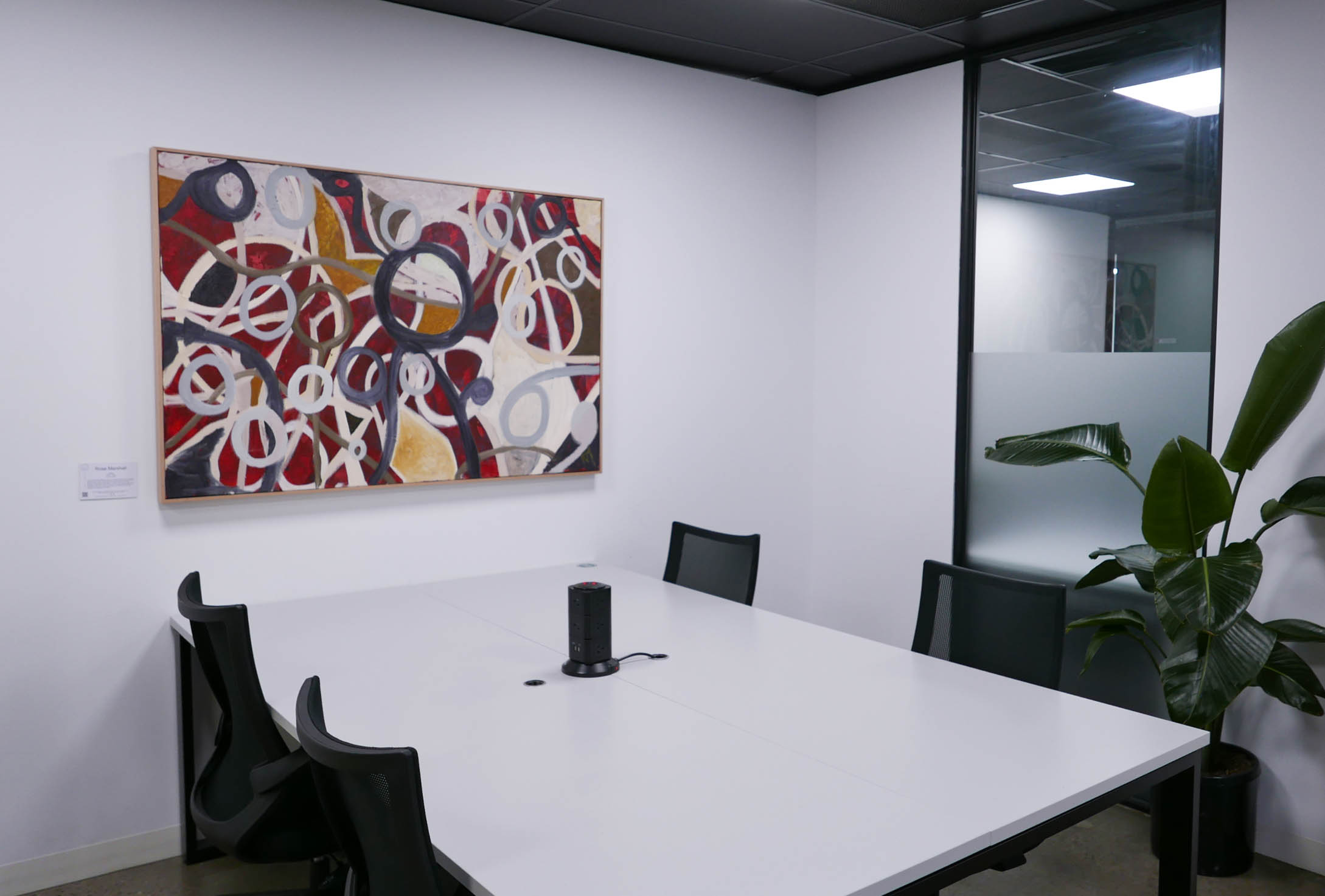 Loops One
Oil Paint
$1200
Loops is typical of Rose Marshall's process. An acrylic figurative piece on an upscaled canvas was the first step. Then the whole canvas was reworked using thick, luscious globs of oil with a brush and palette knife. For resolution, big lines and circles dominated. Complicating an interpretation of a work by having numerous layers allows a painting to always remain open to the viewer. Each viewer is allowed confidence to have their own response, not a dictated response. The aesthetic is a conscious, meditative, and complicated interpretation.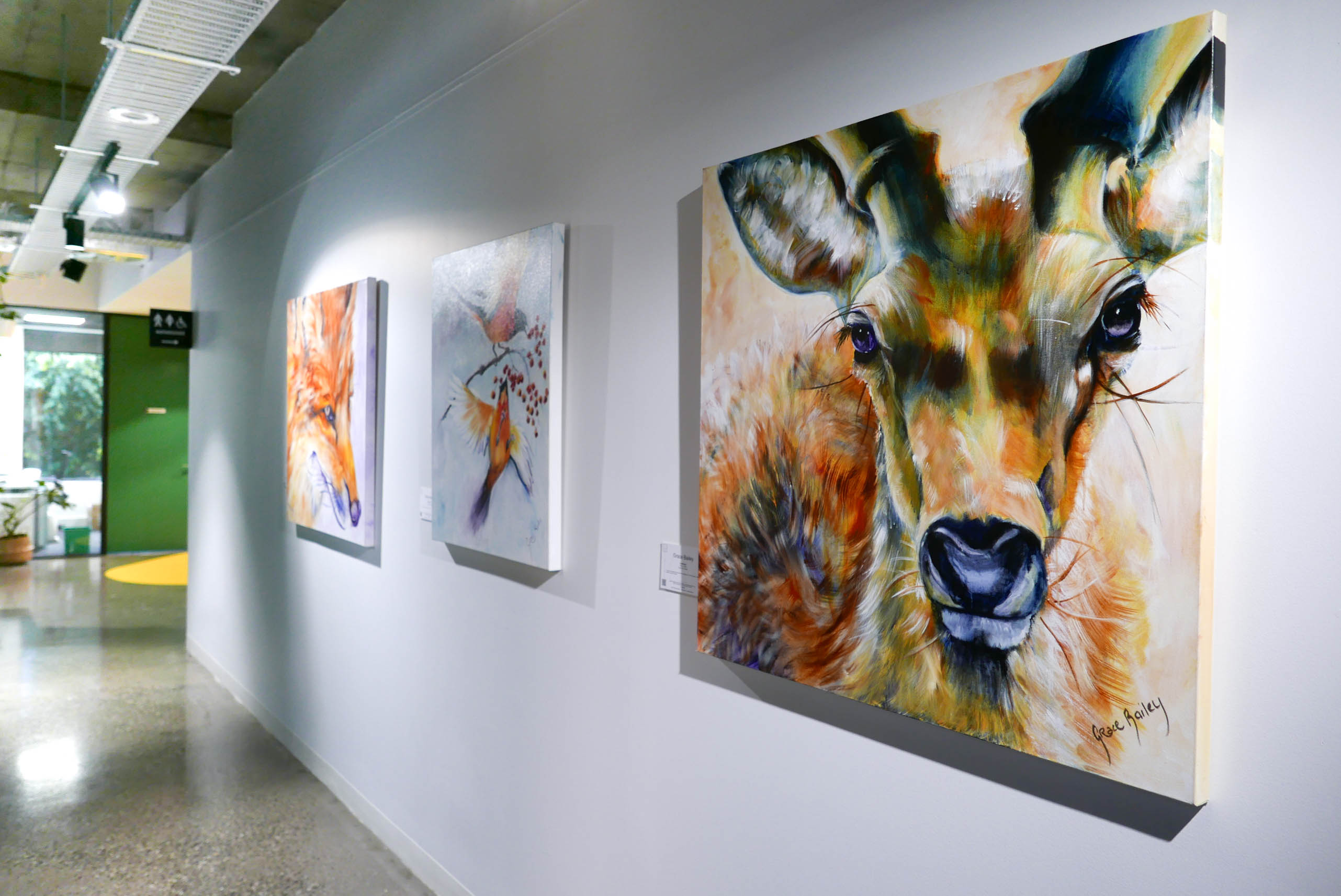 From left to right
'Free Spirit', 'Taste and See', and 'Gentleness'
Acrylic on canvas
$2990, $900, $2990
Free Spirit. Most people see the fox as representative of slyness, but actually, when you stop to study them, they're clever and very beautiful. Perhaps it represents those people who are misunderstood…
Taste and See. Taste and see the goodness that surrounds us all.
Gentleness. The deer is a metaphor for the human trait of gentleness. The colour green is used to amplify the sense of serenity.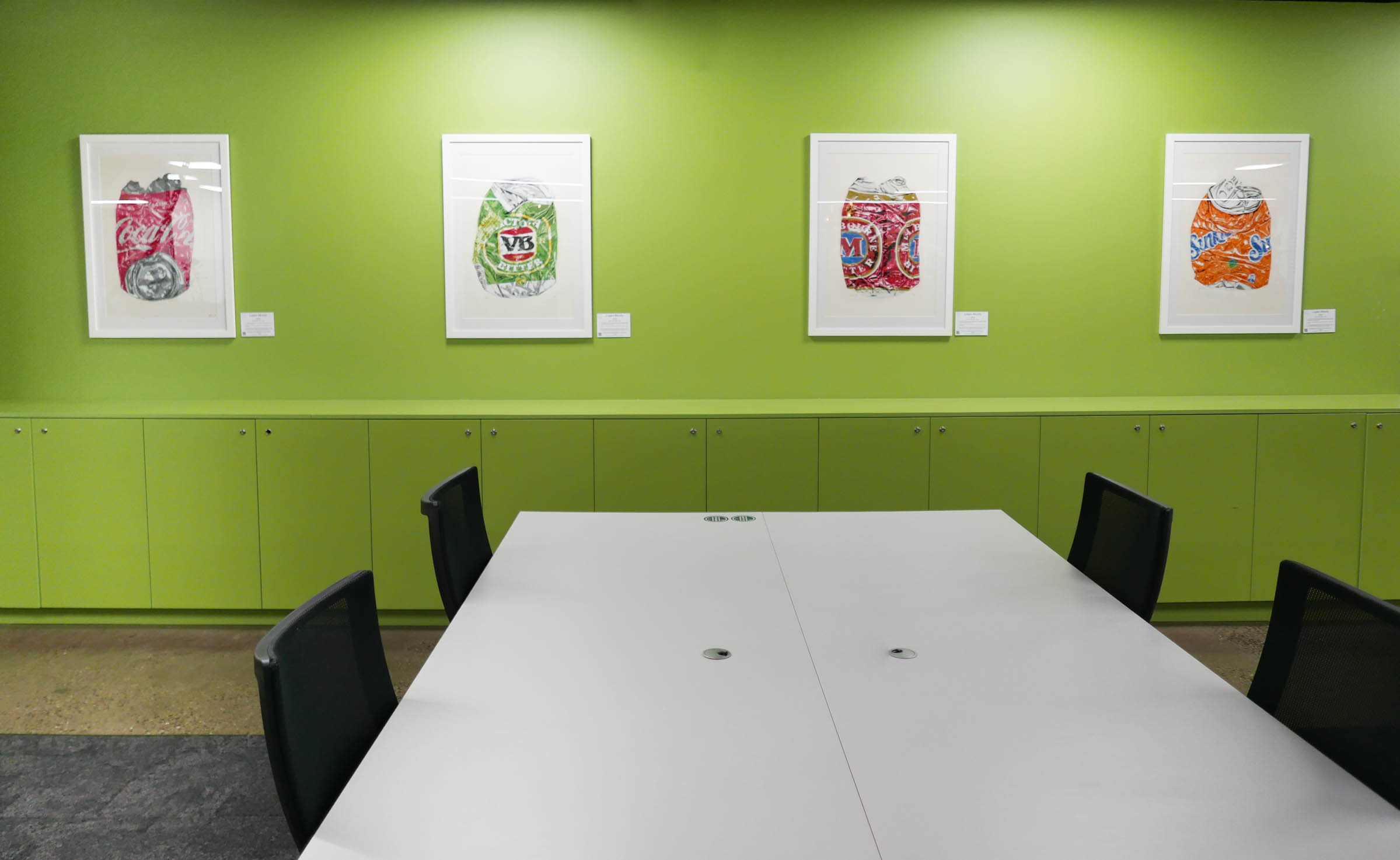 Crush Series
From left to right
'Crush #1', 'Crush #2', 'Crush #3', and 'Crush #4'
Stencil & Spray paint on paper
$820
Logan Moody's Crush series taps into the nostalgia of food and beverages, whilst also commenting on consumerism. Finding beauty in the mundane of everyday city life has always been at the heart of Logan's work. This image has been created using hand-cut stencils and aerosol paint to build an almost photorealistic effect, the details capturing the viewer and creating a sense of wonder. Believe me, when I say, it is a very time-consuming process!